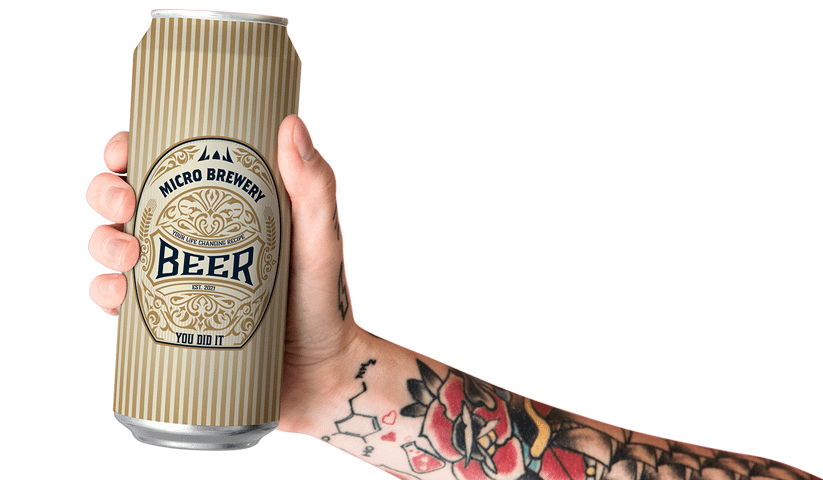 Should I bottle My Beer or Can It?
Benefits of Canning Over Bottling:
Lower Transportation Expenses
When considering beverage containers, aluminium cans have a number of advantages over glass bottles. Not only are cans lightweight and easier to recycle, but they also provide superior protection against UV light. This sustainability benefit should be a major consideration when making a decision, not to mention the cost savings.
The use of aluminium cans for beverages is vastly superior to other options in regard to both their content and the environment. The monetary and energy savings that are accrued from the production, shipping and filling, transportation, and recycling of aluminium cans are significant.
Eco-Friendly Wrapping
Green packaging is an idea that is growing in popularity. It involves utilizing materials and methods that are more environmentally friendly than traditional packaging. This type of packaging is often seen as an alternative to the wasteful throw-away packaging that is commonplace in modern society. It can include using recycled materials, biodegradable materials, or even materials that can be reused in some way. Eco-friendly wrapping is becoming an increasingly popular choice for those who want to do their part in preserving our planet.
A much larger proportion of recycled material is used to make aluminium cans (73%) than either glass bottles (23%) or plastic containers (less than 6%). Moreover, aluminium cans are recycled at a rate 20% higher than glass bottles.
By using aluminium cans instead of glass bottles or any other packaging, much less energy is expended to create cardboard and deforestation is avoided since there is less need for paper products.
Aluminium Cans that are Economical in their Consumption of Energy
The benefit of cans for sustainability is not exclusively limited to transport. Further advantages can be seen in the bottom line of both the manufacturer and the consumer. Aluminium cans are more efficient when it comes to warehousing and point-of-sale storage, as they require less space and are simpler to chill than glass bottles, in turn decreasing their environmental impact.
Aluminium beverage cans can be stored in much closer proximity to one another due to their slimness; in fact, their average thickness is less than a human hair. This also allows for them to be cooled to a drinkable temperature faster than if they were inside glass bottles.
Possesses Great Recycling Potential
In a EuroNews report, post-consumer aluminium proved to be the more advantageous choice when it comes to energy savings and landfill space. Recycling a metric ton of glass yields 42 kilowatts of energy and 1.5 cubic metres of landfill space, while the same amount of aluminium recycled yields 14,000 kilowatt-hours and 7.7 cubic metres of landfill space.
When it comes to fossil fuels, the advantages of recycling are even more remarkable. Recycling glass conserved 91 litres of oil, which is close to 24 gallons. When it comes to aluminium, the savings were even more impressive, as 6,545 litres (more than 1,700 gallons) of fuel were saved by recycling.
Advantages of Aluminium Containers Compared to Glass Bottles
The form of aluminium cans allows them to be filled quickly, which increases efficiency.
In addition, they are cheaper to manufacture and contain a large amount of recycled material, while also having a minimized environmental impact in comparison to glass bottles.
Bottles are not easily stackable without extra packaging, whereas cans can be piled up with ease, conserving space and cutting down on unnecessary waste.
Additionally, aluminium cans provide superior protection from UV rays and oxygen.
Finally, transportation costs and fuel consumption for cans is much lower than for glass bottles.
Evaluating the Pros and Cons of Aluminium and Glass for Shipping Purposes
Shipping rates are notably lower when utilizing aluminium cans in comparison to glass bottles. On average, cans bring down the package weight by 40%, which helps reduce the cost of transport from the container maker to the brewery, as well as from the brewery to the marketplace.
When it comes to increasing profit margins, minimizing losses is essential. Glass bottles, being more fragile, are more likely to suffer from breakage or other mishaps, whereas aluminium cans are opaque and protect the contents from UV light. Additionally, aluminium cans are lighter and prevent spoilage, guaranteeing a top-notch beverage for the consumer.
The weight of a 355ml can at 15-20 grams is much less than that of a glass bottle, which can weigh around 220 grams. However, this is not the only saving that comes with aluminium cans. Their lighter weight leads to a reduction in the energy needed to transport drinks, which in turn results in a smaller carbon footprint than other containers. Studies have shown that aluminium cans have significantly fewer emissions  of greenhouse gases during their lifetime compared to both glass and plastic containers.
Aluminium: Environmentally-Conscious, Productive, and Profitable
The journey of a drink begins at the brewery or canning plant where it is put into containers. Afterwards, it is sent to warehouses and distribution centres where it is kept before making its way to the point of sale. Aluminium cans are favourable due to their ability to be easily stacked, which helps to reduce shipping and warehousing costs.
Pallets of canned beverages take up less labour time to unpack and repack than their glass bottle counterparts, resulting in energy savings. Retailers are also able to store and move canned beverages more quickly and simply.
It is clear that cans are superior to glass bottles or plastic alternatives in many ways. Cost-effectiveness, environmental friendliness, and convenience are just some of the advantages that cans provide. Additionally, they have become the container of choice for many consumers.
Acknowledgement: Adapted from https://twinmonkeys.net/an-advantage-to-canning-vs-bottling-lower-shipping-costs/
Do you have questions about this topic? Send us your query and we'll get back to you with clarification.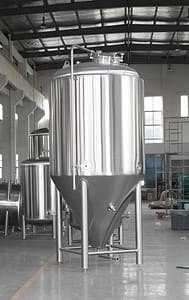 NEW 20BBL Fermenter (3,000L) SKU: SCS-N-CF-3K-FV Description: 20BBL Fermenter (3,000L) Qty: 8 pc Features: Included: safety valve, pressure gauge, butterfly valve, liquid level hose, CO2 device Material: 304 Stainless steel Pressure Range: N/A Age: Manufactured
Read More »